Shimasaki Family
A wedding portrait of Utaro and Natsuyo Shimasaki survives in Auburn's White River Valley Museum. Its caption reads, "Photograph taken January 12, 1913 shortly after Natsuyo came here from Japan to marry her childhood friend, Utaro, who had come to America in 1902 at the age of seventeen. Mr. Shimasaki was very active in the Auburn Japanese community. He taught himself to read, write and speak English and acted as an interpreter for many Japanese-American families." In fact, Natsuyo had departed Kobe on December 16, 1912 on board the Shidzuoka-Maru. She arrived in Seattle on January 6, 1913, just a week before the photo was taken.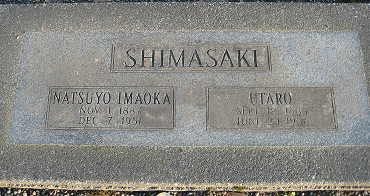 In 1918, as America entered the First World War, Utaro registered for the draft. The couple was farming in Auburn (Christopher) at that time and had already had four children: a son named Masayoshi, daughter Florence, and son William; baby Annie* was less than two months old on the day her father registered for the draft.
The 1920 Census indicates that the family was renting their home (Issei Japanese were not allowed to own land because of discriminatory laws that were in effect at that time) and working on a berry farm. They were doing well enough that, in 1922, the family was able to take a trip to Japan to visit relatives, including Utaro's mother. The couple took their two youngest children on the trip with them. There are no further records of their oldest child; possibly he had died of some childhood malady by that time. Daughter Florence appears to have not accompanied her family on this trip either. Several years later, however, Florence travelled home to Washington from a trip that she evidently made to Japan on her own at age 19. In future years, some of the younger Shimasaki children would also have the opportunity to travel to Japan; their trips, however, would have to wait until adulthood.
By the time the census-taker again visited the Shimasaki Family in 1930, Utaro and Natsuyo had added another son and four more daughters to their family. They continued working as truck farmers, and clearly emphasized the importance of their children's education. By 1940, no fewer than three of their children (William, Lillian, and Mary) had been named as valedictorians or salutorians of their respective graduating classes at Auburn High School.
The autumn of 1940 provided Utaro with another opportunity to travel back to Japan. That year marked the 2600th Year Celebration of the founding of the Japanese Empire. Seattle travel agent Tohiharu Kambe took this opportunity to organize a tour group that ultimately included many Japanese Issei from Western Washington, including Utaro.
Unfortunately, after the bombing of Pearl Harbor in 1941, those who had traveled with the group to observe the Imperial celebrations came under the suspicion by the FBI. Although the participants testified that their primary interest in taking the tour had been to visit aging relatives in Japan, the Bureau was convinced that the trip was instead a means to help Japan plot expansion into the United States. The FBI concluded that participation in the trip was evidence of stronger loyalty to the Japanese Emperor than to the government of the United States.
Several of the tour participants were arrested and transported to Fort Missoula in Montana where they had to endure hearings to explain their actions and intentions. Although Utaro Shimasaki escaped that fate, he and his family, like so many of their neighbors, were later forcibly removed to the internment camp at Tule Lake, California.
* From the Nichi Bei Times Weekly Apr. 26 - May 2, 2007.

KOYAMA, ANNIE M. (SHIMASAKI).
Born July 29, 1918 in Auburn, Washington and a resident of Roseville, California from 1947 until her sudden death on April 21, 2007. Since her husband George Y. Koyama's death in 1972 until the day she died, she enjoyed working on her Christmas tree farm, selling fresh fruit and vegetables and her many friends. Her love of travel took her around the world and to all 7 continents. She is survived by her children, Ward (Linda) Koyama, Patricia (Russ) Nakae and Barbara Koyama and one granddaughter, Leslie Koyama. She is also survived by her sisters, Mary Toki, Lillian Shimasaki and Dorothy Gilmer. She was preceded in death by her sister, Gladys Gisi and brother, William Shimasaki. In accordance with her wishes, cremation has taken place and no service has been planned. In lieu of flowers, remembrances may be sent to the Roseville SPCA, Breast Cancer Society or a favorite charity.