The Trouble with Tombstones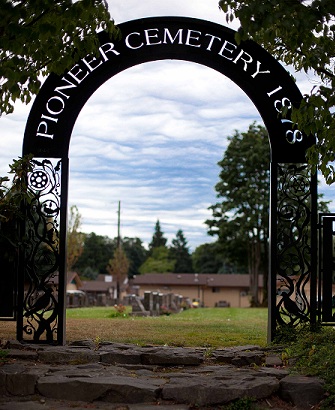 Photo by Christina Russo
... is that they don't tell stories, they merely suggest them. Usually, their inscriptions amount to little more than a name and a set of dates that served as the bookends for the deceased person's life. They are the equivalent of reading, "Once upon a time" without getting to then learn any of the details that flesh out the stories. They are, in short, a tease.
The markers at the Auburn Pioneer Cemetery are no different. But in the case of the people buried here, their stories are too important to be lost to history. This website is intended to do what the burial markers do not—to tell a bit more about the families represented among the graves. The vast majority of them are of Japanese descent. They came here, as did most of our ancestors, with dreams of a better life in a new land, with hope for their children's futures, and a desire to succeed through hard work. Unfortunately, their plans were tragically derailed by bigotry, discrimination, and political forces beyond their control. Many of them left our area forever. That fact does not, however, give us leave to forget their families as they existed when they were our neighbors.
These stories were assembled using public records such as federal census reports, state birth and death records, draft registration cards and internment records. In some cases they have been supplemented with published obituaries. Stan Flewelling's excellent book Shirakawa, Stories from a Pacific Northwest Japanese American Community also provided additional detail for some of the reports.
This site is not is not a genealogy site, although we have created brief family trees for each of the listed families (a link to the tree appears at the top of each family's page). Additionally, we've uploaded more comprehensive annotated genealogies to Rootsweb.com.
This site is meant as a service and a tribute to the Auburn area's Japanese communities, both past and present. It is a work in progress. Most of all, it is a means of finishing the stories suggested by the grave markers. It's a means of remembering.